Catalysing a culture change in the way biodiversity data are published using the unique semantic publishing workflow of the Biodiversity Data Journal
Project Coordinator
Anne Thessen, University of Colorado, Anschutz Medical Campus, USA
Project Members
J. Adilson Pinedo-Escatel, Illinois Natural History Survey, USA
Dr. Jader Oliveira, Faculty of Public Health - USP, Brazil
Renan Barbosa, UFPE, Brazil
Krizler Tanalgo, Chinese Academy of Sciences, China
Paulo A. V. Borges, Azorean Biodiversity Group, Centre for Ecology, Evolution and Environmental Changes, Universidade dos Açores, Portugal
Panakkool Thamban Aneesh, Graduate School of Integrated Sciences for Life, Hiroshima University, Japan
Dr. Ameri Kottarathil HELNA, Scientific Officer, Regional Forensic Science Laboratory, Kannur, Kerala, India
Hanieh Saeedi, Biodiversity Information Coordinator, Senckenberg Research institute and Natural History Museum, Frankfurt am Main, Germany
BiCIKL Contact person
Lyubomir Penev, Pensoft Publishers
BiCIKL Research Infrastructures involved
GBIF, DiSSCo, Zenodo, INDSC (ENA), PlutoF, TreatmentBank, BLR, COL and all other BiCIKL partnering infrastructures
Non-BiCIKL Research Infrastructures accessed
BOLD, iDigBio, WORMS
Biodiversity data classes and services included
Linking between specimens, sequences, taxon names, traits, and literature and infrastructures that manage these data classes; using advanced semantic publishing methods to produce FAIR biodiversity content that can be harvested and re-used directly from the publications.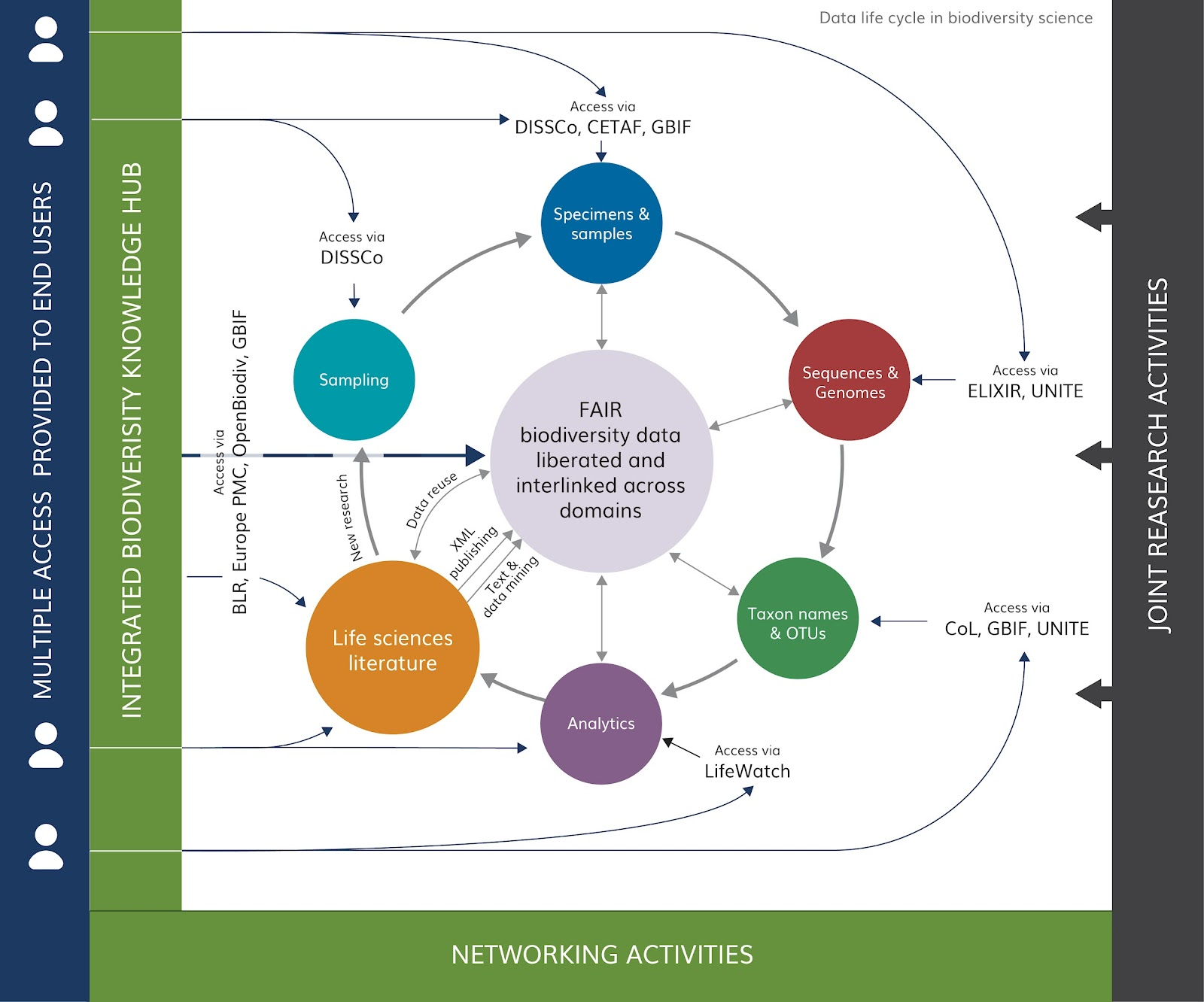 Example schematic showing data linking across the biodiversity research cycle to stimulate new knowledge that can be provided to users through several different access points. BiCIKL encourages FAIR and interlinked biodiversity data that can be published in the Biodiversity Data Journal, either in data papers or research articles based on interlinked data.
Background
We propose the opportunity of FREE publication of advanced scholarly articles in the Biodiversity Data Journal, based on linked FAIR biodiversity data. The publication of the articles in the collection will be supported by the EU-funded Biodiversity Community Integrated Knowledge Library (BiCIKL) project, dedicated to building new communities of key research infrastructures, researchers, citizen scientists and other stakeholders by using linked and FAIR biodiversity data at all stages of the research lifecycle, from specimens through sequencing and identification of taxa, to final publication in advanced, human- and machine-readable, reusable scholarly articles.
This article collection will welcome research articles, data papers, software descriptions, and methodological/theoretical papers that demonstrate the advantages and novel approaches in accessing and (re-)using linked biodiversity data. In addition, all participants in the BiCIKL Open Call projects could use this collection to publish their results. .
* The publication fee (APC) is waived for standard-sized manuscripts (up to 40,000 characters, including spaces) normally charged by BDJ at € 650. Authors of larger manuscripts will need to cover the surplus charge (see more about the APC policy at Biodiversity Data Journal, or contact the journal editorial team at: bdj@pensoft.net).
To be considered eligible for the collection, the manuscripts should be compliant with one or more of the following conditions for publication.
The published articles need to acknowledge the BiCIKL project, Grant No 101007492 in the Acknowledgements section.
We recommend authors to get acquainted with these two papers before they decide to submit a manuscript to the collection:
Expected outcomes
The article collection will cover a wide range of topics based on linked biodiversity data in full compliance with the aims of the BiCIKL project and the Open Call requirements, such as taxonomic descriptions with data imported through specimen PIDs, or via the Barcode Identification Numbers (BINs), "cyber-catalogues", theoretical or methodological papers on linking of FAIR biodiversity data, data papers or software descriptions that use data from the BiCIKL's Research Infrastructures, and others.
The papers will demonstrate the use of biodiversity data linked across the entire data life cycle, from specimens and collections, through sequencing, naming of taxa and publishing in a format which allows direct data harvesting and reuse upon publication. The project will have a significant impact on the education of the forthcoming generation of biodiversity scientists and will support a culture change in the way data are published and reused.