Cyber catalog and revision of the nematode genus Enchodelus (Nordiidae, Dorylaimida)
Project Coordinator
Milka Elshishka, Institute of Biodiversity and Ecosystem Research, Bulgarian Academy of Sciences, Bulgaria
Project Members
Milka Elshishka, Institute of Biodiversity and Ecosystem Research, Bulgarian Academy of Sciences, Bulgaria
Vlada Peneva, Institute of Biodiversity and Ecosystem Research, Bulgarian Academy of Sciences, Bulgaria
Aleksandar Mladenov, Institute of Biodiversity and Ecosystem Research, Bulgarian Academy of Sciences, Bulgaria
Stela Altash, Institute of Biodiversity and Ecosystem Research, Bulgarian Academy of Sciences, Bulgaria
Reyes Peña-Santiago, University of Jaén, Spain
Sergio Álvarez-Ortega, Rey Juan Carlos University, Spain
BiCIKL Contact person
Donat Agosti, Plazi
BiCIKL Research Infrastructures involved
GBIF, CoL, Treatment Bank, Biodiversity Literature Repository, ENA, iBOL
Non-BiCIKL Research Infrastructures accessed
NCBI (GenBank), BOLD
Biodiversity data classes and services included
Scanned and data mined taxonomic treatments and other data from the literature.
Digitized information on type material and all possible other material.
Data on the distribution of species from literature and collections.
Images of all species assembled in a dataset for further use.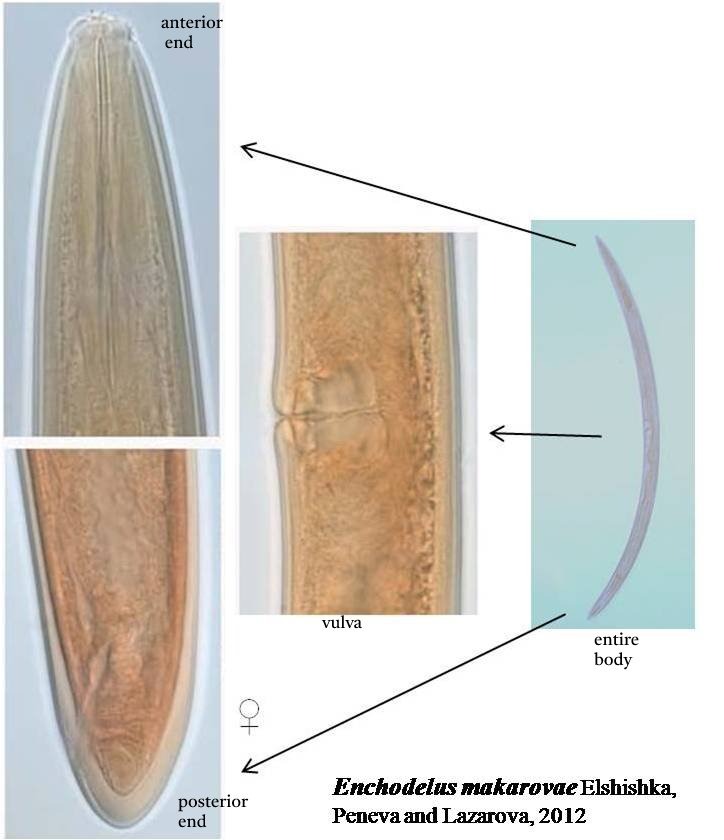 Background
Cyber catalogue and revision of the nematode genus Enchodelus (Nordiidae, Dorylaimida).
Taxonomic history. Genus Enchodelus was erected in 1939 by Thorne. Ahmad and Jairajpuri (1980) revised it and grouped the species into five subgenera (Enchodelus, Rotundus, Paraenchodelus, Heterodorus, Nepalus), based on some morphological characters (tail shape (the first two have rounded tail, the others – conoid), odontostyle length, morphology of odontophore, peculiarities of female genital system). Andrássy (2009) considered all enchodelid species with conoid tails to belong to a different genus – Heterodorus Altherr, 1952, thus simplifying and clarifying Enchodelus taxonomy.
Environmental relationships. Genus Enchodelus currently includes 29 species showing peculiar distributional patterns, being spread only in the northern hemisphere. The members of the genus are common at high altitudes (1260-4400 m a.s.l.) and latitudes (northern territories), frequently associated with mosses and rock vegetation. As the species are found mainly in natural habitats, the genus can be considered to have a conservation value.
Gaps in the knowledge. Many of the "old" species' descriptions are hardly discoverable, which makes the study of the genus very difficult. In various databases, there is data presented only for some species, however largely incomplete and with important information missing. Only two species, described by Thorne (1939) have been redescribed (Guerrero and Peña-Santiago 2007). The authors provided complete descriptions, illustrations and discussions. The other "old" species have never been studied. This complicates the taxonomy of the genus, species identifications as well as the descriptions of new species. A detailed study of the available literature data and collection materials is needed to clarify the taxonomic relationships within the genus. Furthermore, the reconstruction of phylogenetic relationships within the genus is obstructed by the limited number of rDNA sequences available in GenBank. Therefore, more systematic integrative studies are needed.
The aim of the project proposal is to create a cyber catalogue of the genus by bringing together all available information on the species of genus Enchodelus. This will contribute to more complete assessment of the species diversity and distribution and will support further biogeographical and ecological studies.
Main activities:
Review digitization, text and data mining of available literature. Collection of data for morphology, taxonomy, occurrences (localities, geographic coordinates, altitude, microhabitats etc.)
Studies and digitization of available materials from different collections.
Description of new species, if it is possible new sequenced genetic material.
Elaboration of an interactive pictorial key.
Publishing of a cyber catalogue, where several data elements (specimens, sequences, taxon treatments, taxon concepts, person names and others) will be linked to trusted external resources through their persistent identifiers.
Expected outcomes
It is expected as main outcome of the project to create a cyber catalogue of all species of the genus Enchodelus with digitised original taxonomic descriptions, other treatments of the same taxon, new redescriptions, synonyms, data on geographic coordinates, altitude, description of microhabitats, data for collections, where the holotype and paratype materials have been deposited, illustrations both from the legacy literature and newly obtained, available and new sequenced genetic material. The catalogue will be supplemented by additional data and descriptions of new species. Thus, a full picture of all known information on the species of the genus Enchodelus will be provided at one place.
In the frame of this research project an interactive pictorial key will be elaborated.
The results will be linked to records in GBIF, CoL, Treatment Bank, Biodiversity Literature Repository, ENA, iBOL. Thanks to it, the data which until now are not available in a digitised version will be made accessible and FAIR for the scientific community.
This study will provide an innovative approach for presenting the holistic information about a given taxon. The cyber catalogue will be published in the Biodiversity Data Journal and will serve as an exemplar model work for this kind of data assemblage on a taxon in nematology and possibility in other disciplines.